Published On : 2020-10-06
FOR IMMEDIATE RELEASE
Threat landscape report deep dives into cyber-attack campaigns against Southeast Asia and Japan organizations, as well as the motivation, methodologies and tools behind the attacks
Singapore/Japan – Tokyo – October 6, 2020 – CYFIRMA, a predictive cyber-threat visibility and intelligence analytics platform company today released a Southeast Asia (SEA) and Japan Threat Landscape Report providing businesses and organizations in the region a predictive outlook of the cybersecurity challenges that they will likely face in the second half of 2020.
Kumar Ritesh, Founder and CEO at CYFIRMA, commented: "The SEA and Japan region presents a unique geography of developed and emerging markets. It is where some of the largest enterprises in the world are based, a hotbed for fast-growing start-up businesses that are driving technological innovations, as well as home to youthful populations who are digitally connected. At the same time, governments here are encouraging digital adoption and driving smart city projects."
"All this connectivity translates to wider attack surfaces for threat actors. Additionally, cyber maturity may not be keeping pace with this growth, creating a ripe environment for cyberthreat actors looking to exploit vulnerabilities. We have already seen hacker groups taking advantage of the global health crisis over the last few months to intensify their attacks, causing a spike in cyberthreat activities."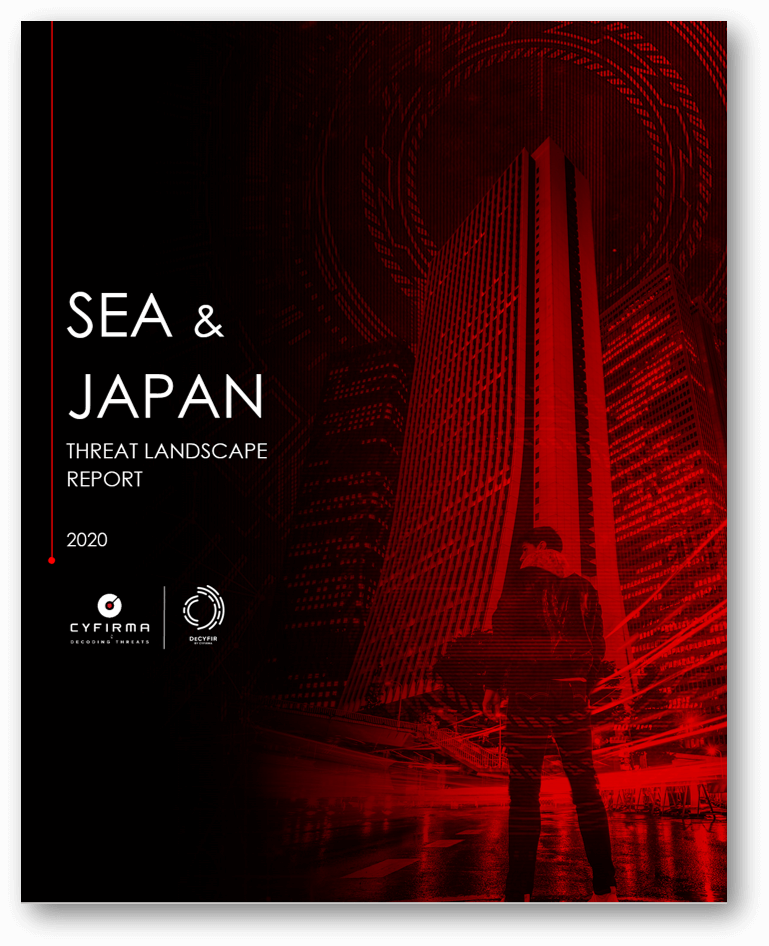 The SEA and Japan Threat Landscape Report offers facts and intelligence on reported cyber-attack campaigns with detailed information on the top attack methods. There is also section that deep dives into the top critical incidents in the first half of the year.
Additionally, the report focuses on specific threat actors that are targeting organizations in the region and offers an analytical view into the tools and attack methods, such as phishing, during the current pandemic.
Ritesh added: "At CYFIRMA, we help organisations take a proactive and pre-emptive approach against cyberthreats by strengthening their tactical threat intelligence and constantly improving their cyber posture to stay ahead of adversaries. The report offers a landscape view on cyberthreat allowing organizations to better understand the motivation behind threat actors and the methods they adopt."
The SEA and Japan Threat Landscape Report is developed by CYFIRMA researchers using its proprietary cloud-based threat discovery and cyber-intelligence platform DeCYFIR. The team taps on this to dive into hackers' trenches to analyse and correlate information and discover the deepest insights from the data.
ABOUT CYFIRMA
Headquartered in Singapore and Tokyo, CYFIRMA is a leading Predictive Cyber Threat Visibility & Intelligence Platform company. Its cloud-based AI and ML-powered Cyber Intelligence Analytics Platform helps organizations proactively identify potential threats at the planning stage of cyberattacks, offers deep insights into their cyber landscape, and amplifies preparedness by keeping the organization's cybersecurity posture up-to-date, resilient, and ready against upcoming attacks.
CYFIRMA works with many Fortune 500 companies. The company has offices and teams located in Singapore, Japan and India.
CYFIRMA Communications Contact
Anna Koh
Tel: +65 94892177
[email protected]
Ying Communications (a FINN Partners company)
Avril Sindhu | Syafiq Rahman
Tel: +65 92219924 | +65 96879410
[email protected]