Published On : 2021-01-08
CYFIRMA is the Second Largest Threat Intelligence Provider in Japan
The company secures second placing with a 17.4% market share in Japan according to analyst firm ITR
Tokyo, Japan – Jan 8, 2020 – CYFIRMA, a threat discovery and cyber-intelligence platform company, funded by Goldman Sachs, Zodius Capital and Z3Partners, today announced it has been ranked as the second-largest threat intelligence provider in Japan by leading IT research and consulting firm, ITR.
CYFIRMA's cloud-based, AI-powered cybersecurity platform, DeCYFIR, has seen significant adoption in 2020 by Fortune 500 clients in the high-tech manufacturing, financial services, and retail segments. The company secured a 17.4% market share in Japan in the study 'ITR Market View: Cyber Security Consulting Services Market 2020' published in December 2020.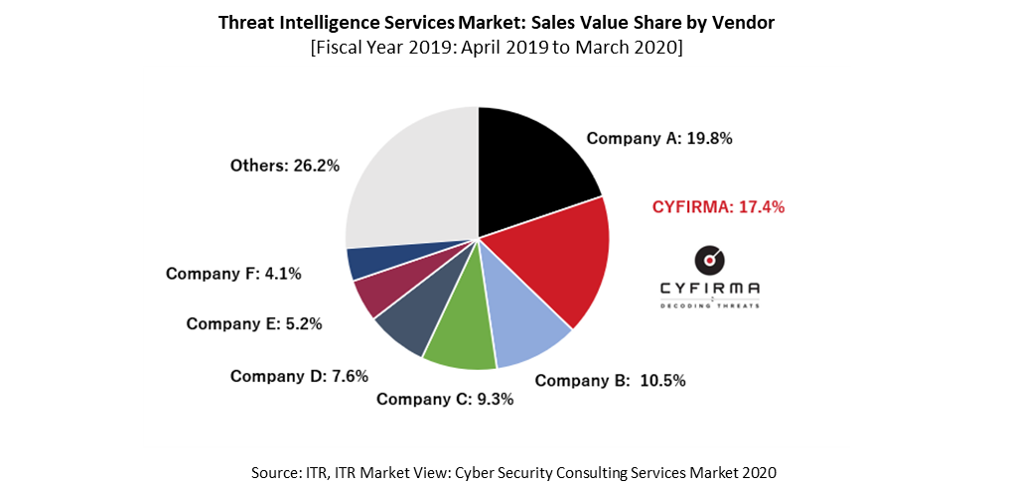 "2020 has broken records on many fronts, including the number of cyberattacks. We saw an increase of over 600% in cyberattacks globally with phishing attacks surging by 1100% compared with the year before. Ransomware and state-sponsored attacks have similarly swelled by 300% and 400% respectively. These are clear signs that governments and businesses cannot let their guard down when it comes to protecting people, assets, and data against cyberthreats. Leaders operating in a post-pandemic digital economy need effective defense strategies. This is where our threat discovery and cyber-intelligence platform, DeCYFIRTM , plays a pivotal role to provide early warnings of cyberattacks, ensuring clients take remedial actions to strengthen cyber posture and fend off cyber intruders," said Kumar Ritesh, Founder and CEO, CYFIRMA.
According to the ITR report, Threat Intelligence market in Japan is expected to grow 209.8% YoY in FY2019, and a further 190.7% in FY2020. The demand for threat intelligence services is spurred by the ever-increasing number of sophisticated, complex, and large-scale cyber-attacks. ITR forecasts the threat intelligence market to grow at a CAGR of 30.1% from 2019 to 2024.
For more information, reach out to [email protected]