Published On : 2019-04-10
It looks like CYFIRMA's quest to emerge as the absolute market leader when it comes to the integration of bleeding edge Artificial Intelligence (AI) techniques into the Cyber Threat Intelligence routine has received a massive shot in the arm. The influential Enterprise Security Magazine has selected CYFIRMA as part of its "Top 10 Artificial Intelligence Solution Providers – 2019" listing.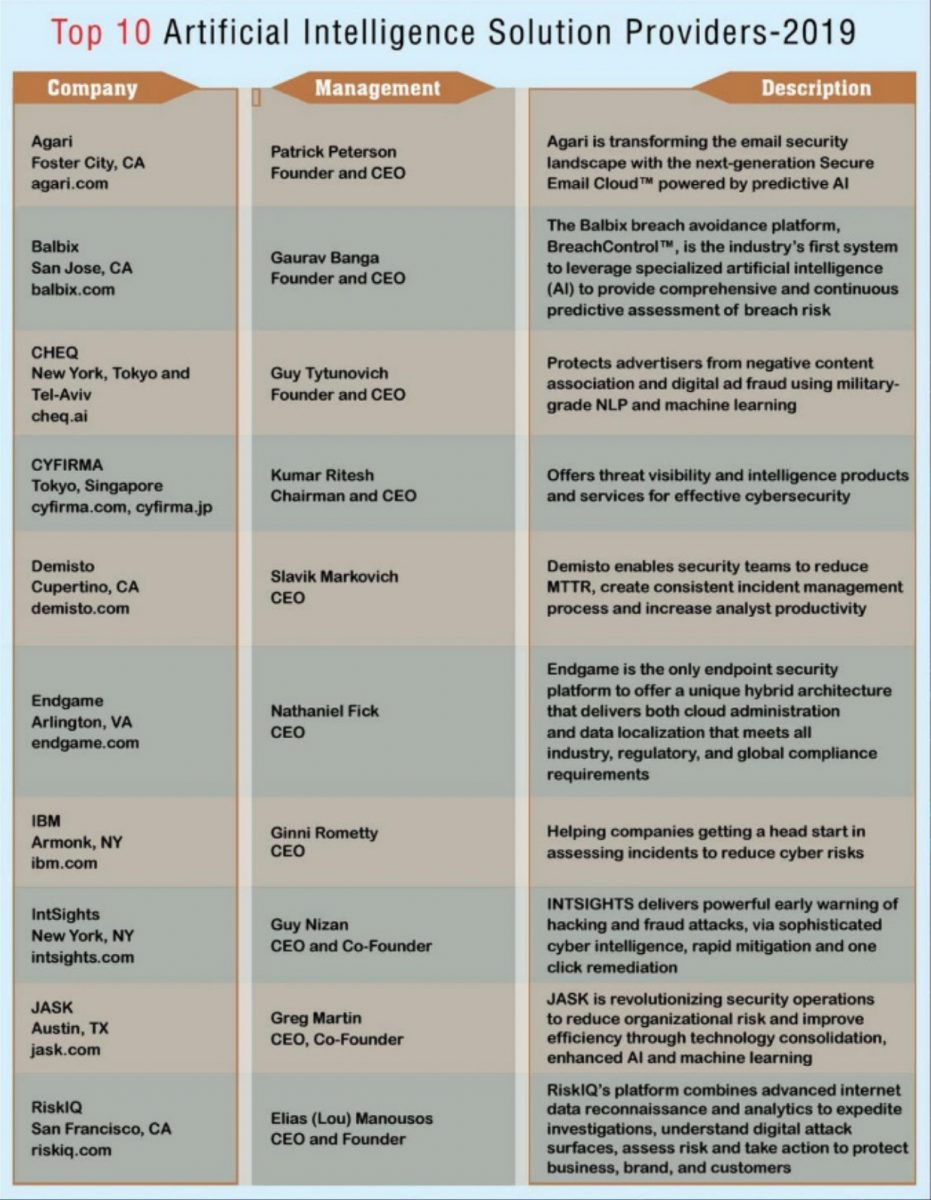 Source
: Enterprise Security Magazine, April-2019 edition, pages 16 & 17
In a world where AI is gaining wide applications across an ever incrementing number of business verticals, CYFIRMA is actively employing AI and Machine Learning (ML) to power its unparalleled Cyber Threat Visibility and Intelligence product and service offerings. The commitment to this next iteration of the global cybersecurity landscape where AI/ML are key contributors, witnesses CYFIRMA as a pioneer and an innovator, driving highly intuitive, relevant, prioritized and accurate cyber insights that apply to the customer's specific environment and industry.
View the associated article on the Enterprise Security Magazine: https://artificial-intelligence.enterprisesecuritymag.com/vendors/cyfirma/2019
The Latest Feather in CYFIRMA's Cap
Thus far, 2019 has been a highly productive year for CYFIRMA where accolades, recognitions and exciting new undertakings and partnerships have been the norm. Fresh off CIOApplications' listing of CYFIRMA as part of its "Top 25 Innovative Cybersecurity Companies 2019" and being featured on Cyber Startup Observatory© – Japan CyberSlide© and Singapore CyberSlide©, this citation from Enterprise Security Magazine is further vindication of CYFIRMA's growing posture amongst the global fraternity of cybersecurity analysts, experts and industry leaders.
The "Top 10 Artificial Intelligence Solution Providers – 2019" list is compiled by a distinguished panel, comprising of noted security experts, leaders in the cybersecurity space, and eminent board members overseeing the Enterprise Security Magazine. This marks CYFIRMA's debut as part of this influential listing.
"Looking at the eminent list of awardees, we are very excited to be featured as one of the Top 10 Artificial Intelligence Solution Providers – 2019," said Kumar Ritesh, CYFIRMA Chairman and CEO. "Advance AI engines are at the heart of our solution, which picks up early attack indicators from multiple sources and applies our proprietary algorithms to predicts the next potential cyberattack."
The Road Ahead
Currently, CYFIRMA is in the final stretches of launching its proprietary Cyber Intelligence Analytics Platform (CAP) v2.0 to customers in Japan and across the world. The latter helps organizations with real-time insights into emerging threats, including such information as attack motives and methods utilized. CAP automatically aggregates, correlates and analyses cybersecurity information and events, as derived from thousands of data sources, including the deep/dark web and obscure hacker forums. The targeted intelligence thus obtained helps organizations be ready for cyberattacks that are professionally put together and effectively manage related cyber risks before they actually occur.
Know more about the CAP: https://www.cyfirma.com/products-services/about-cyber-intelligence-analytics-platform/
CYFIRMA's products & services line-up: https://www.cyfirma.com/products-services/
About ENTERPRISE SECURITY:
Constituted to help organizations adapt to the deep-seated changes taking place in their cybersecurity landscape, ENTERPRISE SECURITY shortlists and speaks about security solutions which can help organizations prepare for radical changes and mainstream attacks. It follows a unique learn-from-peer approach where chief security officers and decision makers share their innovative solutions along with their industry expertise and wisdom.
For more information, visit http://www.enterprisesecuritymag.com/