Published On : 2020-01-10
CYFIRMA will be exhibiting and hosting a lecture at Security Days 2020 Tokyo, which will be held at Tokyo JP Tower from February 5 (Wed) to February 7 (Fri).
Outline of the lecture
In recent years, a number of distinguished vendors have provided threat intelligence, which is one of the new trends in cyber security. However, CYFIRMA, a leading threat intelligence company in Japan for over three years, is still witnessing the following gaps in the security market.
Ambiguous definition: The definition of intelligence and the content of services provided differ from vendor to vendor, and the original meaning of "intelligence" is not recognized in its entirety.
How it works: Most intelligence is just "tactical" and not used for security decisions or countermeasures. (A lot of people are worried about how to utilize this intelligence, given their IT environment and issues.)
Ex post facto: A lot of available intelligence is on what has already happened, and not focused on what could happen in the future.
Consequently, Shuhei Igarashi, SVP at CYFIRMA, will speak on the following topics that directly address the concerns listed above.
Threat intelligence from CYFIRMA
Introduction and value of CYFIRMA's Cyber Threat Analysis Platform (CAP)
Use cases of "real" intelligence in Japanese companies and recommendations for their use
We are looking forward to those that are looking at threat intelligence as a security option for their organization, as also those already using it, to attend this lecture and join in the conversation.
Exhibition name
Security Days 2020 Tokyo
Session
February 5, 2020 (Wed) – February 7, 2020 (Fri)
Venue
Tokyo: JP Tower Hall & Conference (KITTE 4F) 2-7-1
Marunouchi, Chiyoda-ku, Tokyo
Date of lecture
Wednesday, February 5, 2020 14: 15-14: 55
Speaker
Shuhei Igarashi, SVP, CYFIRMA
Lecture number
B1-07
Lecture title
How to deal with realistic threat intelligence
– based on the meaning of the original intelligence and the use cases of Japanese companies
Details and application
https://f2ff.jp/introduction/2398?project_id=20200202
Exhibition booth information
CYFIRMA's proprietary Cyber Threat Analysis Platform (CAP) v2.0:
Collects and analyzes information from more than 280,000 data sources, including the closed dark web, and visualizes unknown threats that are approaching specific organizations.
Provides comprehensive threat intelligence covering three levels: Strategic, Management, and Tactical.
Helps develop security strategies, improves security-related processes, and supports detection and prevention of threats using existing security tools.
Importantly, it provides industry-leading true threat intelligence solutions.
At the booth, visitors will be offered CAP demonstrations, insights into how intelligence can be used, examples of threat intelligence usage in Japanese companies, etc. The above will be explained and demonstrated by experts familiar with threat intelligence, particularly in the Japanese context.
Please drop in at the booth. We are looking forward to your participation.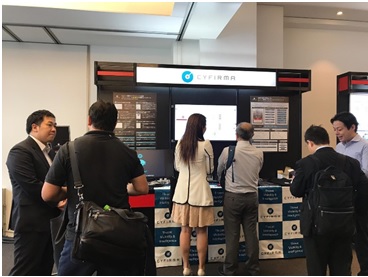 CYFIRMA Exhibition Booth