Published On : 2018-11-28
The Emotet malware is back. First reported across Europe in 2014, this sneaky banking Trojan has made a career out of evolving in line with current technologies and security systems. Now, concealed as emailed Thanksgiving greetings for employees or communication from financial institutions, Emotet is back with a new plugin. In recent attacks, this plugin was spotted siphoning off email subjects and about 16 KB off the email body.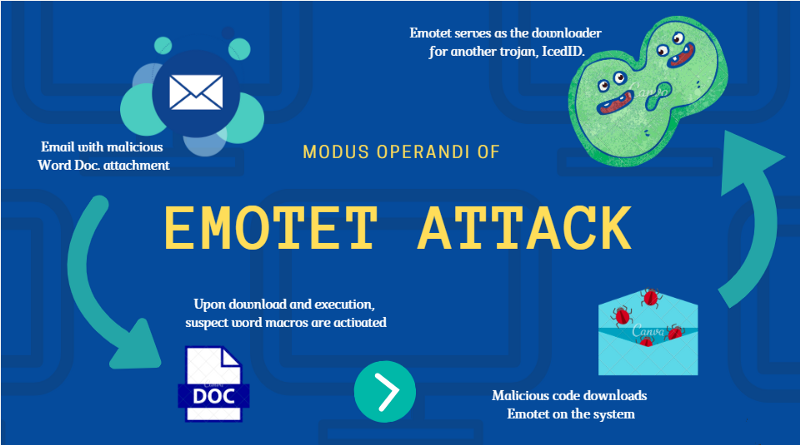 The 2018 attack pattern of the Emotet malware
As threat actors evolve their methods, companies need to evolve their cybersecurity responses too. Active tools, like CYFIRMA's cyber threat intelligence, is forever scanning the deep/dark web and other such forums for the slightest hints of a new malware, or the recycling of an old threat. Further, PREDICTIVE, RELEVANT & PRIORITIZED insights help companies correct and beef up their cybersecurity posture.
Emotet's latest feature will allow for the creation of better phishing templates. Meanwhile, cyber threat intelligence would have foreseen this development and identified the chinks in the company's cybersecurity posture that would need corrections. CYFIRMA's tactical intelligence represents the cutting edge of cybersecurity initiatives today and is based on the complete understanding of the specific threats to specific industries and IT environments.
Looking for regular information about evolving cyber threats? Follow us on Twitter, LinkedIn and Facebook and be in the know.